We've been working hard on System Ninja 4.0 for quite some time now, and we're finally ready for you to take it for a spin.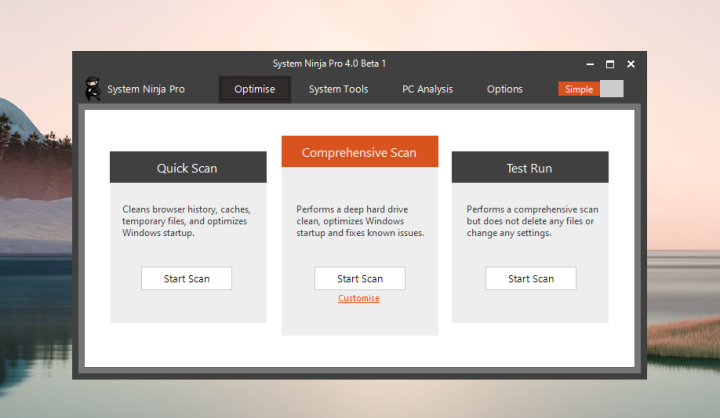 The biggest change in 4.0 is the completely overhauled user interface. The old "Office 2010 inspired" design has been replaced with the kind of flat and modern appearance you'd expect in 2022. We've also replaced the blue accent colour with SingularLabs orange, making it clear that System Ninja is our flagship product.
What's new in System Ninja 4.0
Brand new user interface design and colour scheme.
Windows 11 compatibility.
"Common Torrent Tags" cleaning has been removed as a cleaning option. These files are now cleaned when "Temporary Files" is checked.
Added Recycle Bin to the list of cleaning options.
Fixed issue where System Ninja would reset "Automatic Updates" options for Mozilla products.
System Ninja will now detect the correct Windows version number on Windows 10 and 11.
System Ninja will now warn you in you're attempting to do certain dangerous or silly things with the DuplicateFinder tool.
Added recommendations to many new startup items.
Added Danish Localization (props René Blumensaadt).
[Pro] Added some new UI presets to the Custom Branding module, including Office2016 and Metro.
Want to try System Ninja 4.0?
Please keep in mind that this is a beta release, so some issues are to be expected. As this update is heavily focused on aesthetics rather than the underlying cleaning engine, any bugs encountered are unlikely to be harmful to your computer. Nevertheless, this software is downloaded and used at your own risk.
Found a bug?
Let us know in our support forum, send us an email, shoot us a tweet, or write on our Facebook page. It doesn't matter how you let us know, just as long as you do let us know.
Download System Ninja 4.0 beta 1
System Ninja 4.0 beta is now obsolete and is no longer available. Please visit the System Ninja product page to download the latest stable version.
I'm a Pro Club member? Can I test System Ninja Pro 4.0?
Yes! Head over to the Download Hub page and you'll be able to download a beta build of System Ninja Pro.