System Ninja 4.0 is now available. This release brings a redesigned user interface, full support for Windows 11, support for high resolution displays, plus countless bug fixes and usability improvements.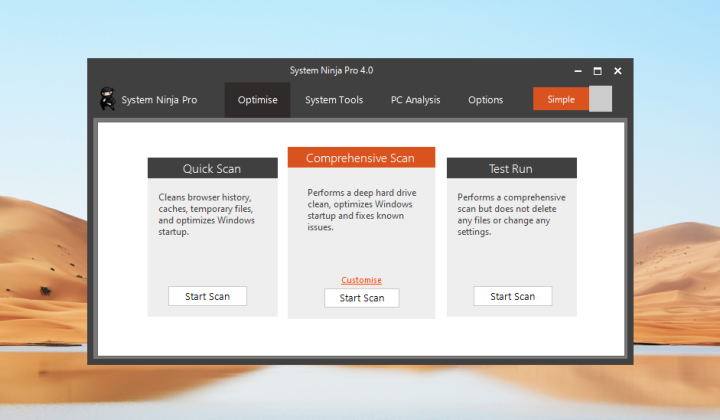 We released the beta of System Ninja 4.0 six months ago, and we're finally confident that all the worst bugs have been found and fixed. Thank you to the thousands of people who tested 4.0 and reported their findings.
What's new in System Ninja 4.0:
Brand new user interface design and colour scheme.
Windows 11 compatibility.
Added Recycle Bin to the list of cleaning options.
Fixed issue where System Ninja would reset "Automatic Updates" options for Mozilla products.
System Ninja will now correctly detect the Windows version number on Windows 10 and 11.
System Ninja will now warn against certain dangerous or silly actions with the DuplicateFinder tool.
Added recommendations to many new startup items.
Added Danish Localization (props René Blumensaadt).
[Pro] Added some new UI templates to the Custom Branding module, including Office2016 and Metro.
"Common Torrent Tags" cleaning has been removed as a cleaning option. These files are now cleaned when "Temporary Files" is checked.
What's new since System Ninja 4.0 Beta:
Fixed high DPI scaling issues on the "drive selector" dialog and the Pro UI
Prevented System Ninja from deleting its own log files.
Fixed issue where System Ninja would remove Chrome and Edge extension settings
Fixed issue causing Pro scans to get stuck at 99%
Modified installer to check that .NET 4.8 is installed.
Too many UI tweaks to list.
System Ninja 4.0 can be downloaded from the System Ninja Product Page. Pro Club members will receive this update automatically the next time they run System Ninja.