System Ninja 2.1 is now available. This version contains significant changes from the previous versions, including a new process manager, cloud-based cleaning routines, multiple languages, improved cleaning power and dozens of improvements to the underlying platform. The download is available from the official System Ninja page.

Making it find more junk – introducing CleanSync:
As you might be aware, programs like CCleaner and System Ninja have an internal list of "rules" that tell it where to find junk on the computer. Each time cleaning support for new program is added, the user must download and install a new version of the program. System Ninja is the first cleaning program to store its rules in the cloud. It will automatically sync the rules in the background, so you always have the latest version even if you don't download the latest System Ninja version. The 500+ rules used by CCEnhancer will eventually be supported by CleanSync too, effectively turbo charging System Ninja's cleaning power.
Multiple Languages Supported:
System Ninja 2.1 is available in several languages, including Dutch, English, Portuguese, Spanish and French. If you want to help out by contributing a translation, please email me.
Cosmetic Changes:
– The 'Tools' tab has been refined to bring less performance overhead and look much, much more awesome than before. This lays the groundwork for "core plugins," so new features can be added without bloating the main program or requiring an update.
– The default skin has been changed to "Office 2010 Black"
– The internal icon for Google Chrome has been updated to reflect Google's recent changes.
New process manager:
More information is shown by the new Process Manager interface. RAM Consumption, Program Name and ProcessID are shown. The powerful process termination feature remains unchanged.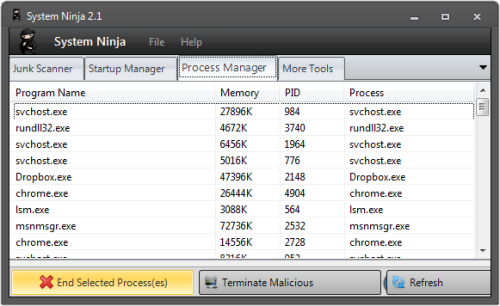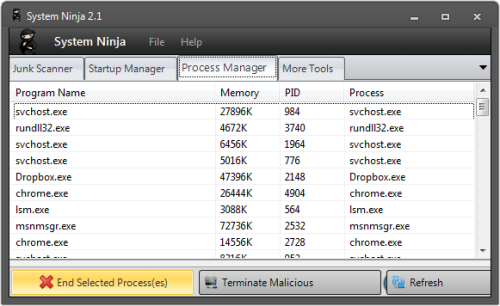 Implemented a scripting language and parser:
This will allow me (and potentially other people) to add new cleaning rules and paths to System Ninja, without requiring them to be hard-coded into the program. "NinjaScript" (as I'm calling it) will also serve a number of under-the-hood purposes to make everything a bit simpler. If you would like to create your own System Ninja cleaning rules in NinjaScript, check out the documentation.
Miscellaneous Changes:
– Dropped support for Flock Browser (See EOL announcement)
– Ignored files and paths are now contained in config.ini, not ignore.ini
– The process of ignoring files has been simplified under-the-hood
– Added more recognized startup entries.
– Added support for User Startup entries under Windows 7
Bug Fixes:

– Configuration file no longer created when using the default settings.
– Installer removes old components when update completes.
– Prevented some unnecessary memory allocation.
– Fixed some internal URL's.
– Corrected spelling errors in help tooltips.
– Correct program icon shown in taskbar