Six long months has passed since the last update to System Ninja. We finally have a beta build ready for testing, containing literally thousands of improvements.
User interface refinements
We've moved the tabs to the side of the page and given the whole UI a new paint job. Everything is faster, more compact or more aesthetically pleasing.
New "System Analysis" tools
System Ninja 2.2 allows you to quickly retrieve important information about your computer. It can retrieve information about your hardware, software and peripheral devices. While not as full-featured as other tools, System Analysis provides most of the truly important information at a glance.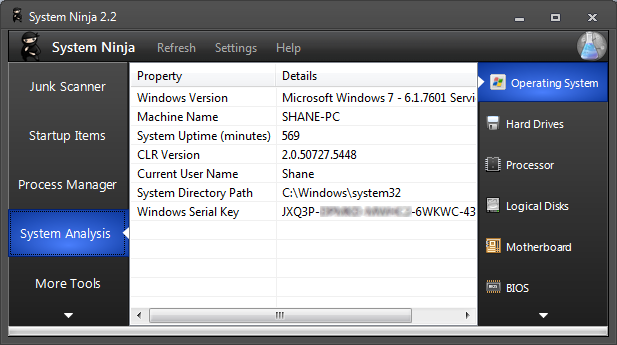 Performance improvements
We've optimized the heck out of everything. Early test have shown scanning can be up to 40% faster!
Startup Manager improvements
We've added better context menu options, a new "more details" dialog, support for a wider range of startup items and better information about each item.
Any feedback you can provide would be extremely valuable! System Ninja 2.2.0.0-beta can be downloaded from the official download page.