System Ninja's Startup Manager
The integrated startup manager allows you to dictate what can and can't run when you turn on your computer. It supports Run, RunOnce, Scheduled Tasks and User Startups. Removing unnecessary startup items can improve the speed at which your computer boots and reduce the idle memory consumed, making your computer faster all-around.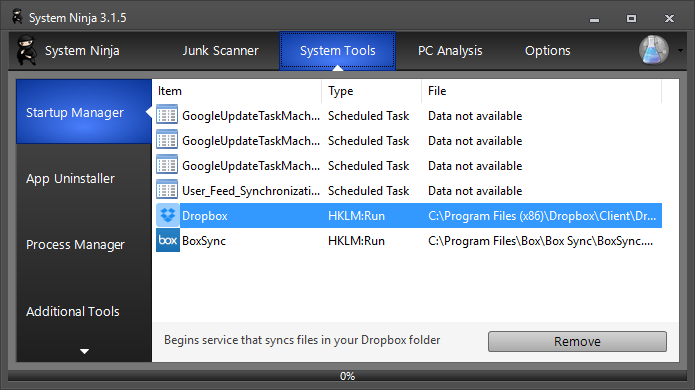 Startup Item Descriptions
The startup manager uses a robust library of definitions to provide information and advice about each item it detects. These descriptions, along with a removal recommendation, are displayed when you select an item. We encourage you to submit (through the support forum) any startup items unrecognized by System Ninja.
Search Google for Item
When you right-clicking on an item in the startup manager, there is an option to perform a Google Search of the item's name. This makes it faster and easier to research unrecognized items and decide whether or not they should be removed.
Highlight Unnecessary Items
This tool is accessible by right-clicking on the startup item list. When clicked, System Ninja will highlight any items marked as "removal recommended" in its internal list of known startup items.